Safety Tape

For Safety Tape of all types, you've come to the right place: ComplianceSigns.com.
Here you'll find tough safety tape in a variety of colors. Choices include CAUTION and DANGER barricade tape, striped hazard tape, no-slip tape and strips and marking tape. Or choose pipe marking arrows or reflective tapes including prismatic DOT vehicle marking tape.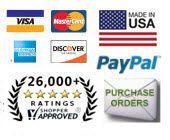 OSHA SAFETY COLOR CODES:
Caution: Yellow/Black or Yellow - For physical hazards, poles, stairs and corners.
Danger: Red/White or Red - For fire protection equipment and obstructions.
Boundaries: White/Black, Orange, White, Blue, Purple, Black, Gray, Brown - For housekeeping and traffic markings.
Safety: White/Green, Green - For safety and first aid equipment.

Order online today for fastest service, or contact us at 800-578-1245 or sales@compliancesigns.com.