No Trespass / Security - No Trespassing Signs

Durable NO TRESPASSING signs and labels from ComplianceSigns.com inform unwelcome visitors to stay away - and protect your property or business.
These collections of No Trespassing signs include OSHA, ANSI, colorful engraved and Novelty trespassing signs. Choose a folder below to see a sign collection: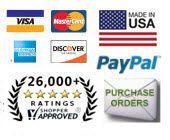 Order online today for fastest service, or contact us at 800-578-1245 or sales@compliancesigns.com.
Don't see the sign you need? Click here to create a custom sign or contact us to discuss your needs.