Vehicle Safety - Large Truck Signs

For Large Truck safety signs and labels, you've come to the right place: ComplianceSigns.com.
Large Truck Safety Signs from ComplianceSigns.com are the easy way to send your safety messages about frequent stops, wide turns, tailgating, truck cargo and more.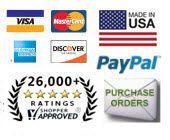 Order online today for fastest service, or contact us at 800-578-1245 or sales@compliancesigns.com.
Don't see the sign you need? Click here to create a custom sign or contact us to discuss your needs.
Safe Driving Resources: