Vehicle Safety - Bumper Stickers

For Vehicle Safety Bumper Stickers, you've come to the right place: ComplianceSigns.com.
Bumper Stickers from ComplianceSigns.com are the easy way to make your vehicle safety rules clear to everyone. They're available in a variety of sizes and topics.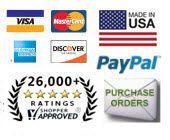 Order online today for fastest service, or contact us at 800-578-1245 or sales@compliancesigns.com.
Don't see the sign you need? Click here to create a custom sign or contact us to discuss your needs.
Safe Driving Resources: